[[salutation]]

The promise of Virtual Desktop Infrastructure (VDI) is lower hardware and support costs with increased security. The reality is that its initial deployment is expensive. Break-even may not occur for 7 to 10 years, compared to buying PC's. Also, VDI deployments often suffer from performance bottlenecks when the hosted desktop is far from the end-user.

Advans' netPulz VDI solves the performance issues while delivering virtual desktops at the same cost as buying PC's.

By taking advantage of netPulz's Software Defined Networking, the clustered VDI servers are located close to the end users. The clustered VDI servers are networked together, even when they are in different locations, thereby providing a decentralized, distributed computing architecture free from the performance bottlenecks of large centralized deployments. These local deployments use servers that have no special cooling or power requirements, so they can be placed in a closet.

Additionally, netPulz SD-Networking provide secure, encrypted remote access to the virtual desktops when users are out of the office.

Since netPulz VDI is optimized to run on commodity servers, customers can buy their own COTS hardware and Advans will install the netPulz VDI software. Software licensing and support is very affordable:
• $25/desktop/month - Support for the netPulz VDI and software stack only
• $50/desktop/month - Support for the netPulz VDI, software stack and remote desktop support
• $99/each - Thin Clients
• Free Software for Fat Clients

Because of the use of COTS hardware, and netPulz Software Defined Infrastructure capabilities, Advans has broken the VDI cost-barrier and made virtual desktops available for the cost of PC's.

Contact Advans today to get netPulz VDI!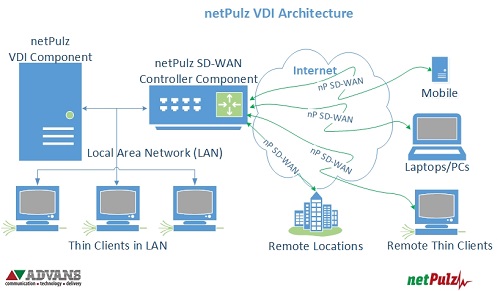 Previously on LinkedIn:
netPulz ComputerVault; too good to be true?
Beware! Hackers are everywhere!
Protect your Business from Hackers
Take Yoda's Advice
Keys to Outsourcing
Data Security for Large Enterprises
Hyperconverged Solutions for SMBs